Working. Together.
Everyone, from business leaders to employees to nonprofit founders are feeling the economic effects of this virus and the virtual shutdown of the country. Here we hope to ease that burden with resources and knowledge you can put to good use.
CCM is providing this content as a ministry. The views expressed by the guests herein are their own and do not reflect those of CCM.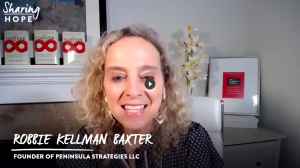 Watch this video with Robbie Kellman Baxter, Founder of Peninsula Strategies LLC, where she discusses:…
See More
Additional Resources
Here are some helpful resources we curated from organizations and speakers also seeking to help during this challenging time.
If you find yourself unemployed during COVID-19, this guide walks you through how to apply for unemployment relief in your state.
The ReEmployment Plan gives you a step-by-step guide to landing your next career, from starting with online job searches to effective interviews.
Career matcher to help with the job search
If you're looking for a new job and wondering how your experience can best be used, this tool allows you to enter your current or past job and see a list of careers with similar skills and a link directly to relevant job postings.
A Guide to Virtual Job Interviewing
The job interviewing experience will look different during the COVID-19 crisis and this guide helps prepare you to succeed in virtual interviews.
5by5 Agency is helping business and nonprofit leaders navigate the many decisions they are facing in marketing, communications and continuing to create change.
Schedule
Here are a few of the great speakers next on the schedule.
Niki Hardy
---
AUTHOR & SPEAKER
FAITH & PRAYER
Steve Fee
---
ARTIST & SONGWRITER
FAITH & PRAYER
David Dietrich
---
PRODUCER & DIRECTOR
FAITH & PRAYER
Robbie Kellman Baxter
---
FOUNDER OF PENINSULA STRATEGIES LLC
WORK & BUSINESS
Amanda Tress
---
FOUNDER OF FASTER WAY TO FAT LOSS
LIFE & PHYSICAL HEALTH
Allison Baggerly
---
FOUNDER OF INSPIRED BUDGET
HOME & PERSONAL FINANCE
Lauren Green
---
FOX NEWS CHANNEL'S CHIEF RELIGION CORRESPONDENT
FAITH & PRAYER
Andy Andrews
---
AUTHOR & SPEAKER
LIFE & INSPIRATION
Chris Norton
---
SPEAKER/AUTHOR/FOUNDER
LIFE & INSPIRATION